Early on, Rachel Terry knew she wanted to pursue a career in the medical field. Her grandfather's doctors inspired her to want to "spend the rest of (her) life in the service of others as a physician." Terry plans on applying to a medical school in Oklahoma after graduation and wants to focus either on women's health or pediatrics.
"They were so devoted in taking care of my grandpa," Terry said. "After he passed away, I decided that's what I want to do with my life."
By shadowing and volunteering at community clinics and hospitals, Terry had the opportunity to observe the different aspects of medicine.
"You see the interaction between doctors and patients and the not-so-good side of medicine," Terry said. "I thought, 'Wow, is this really what I want to do?' but then I remember thinking, 'OK, I can do this. I can handle this.'"
Terry is a senior majoring in biology and minoring in microbiology with pre-med option and honors from Edmond, Oklahoma, who is in the midst of a successful college career.
She was a Life Sciences Freshman Research Scholar and was named one of the Top 10 Freshmen.
"I never in a million years thought I'd get that honor," she said. "When I did, it was really empowering to know that OSU believed in me and is behind me, supporting what I want to do in my life."
She worked under Dr. Donald Ruhl, a biochemistry professor, researching the DNA binding domain of a protein which causes pediatric brain cancer AT/RT, or atypical teratoid/rhabdoid tumor.
"It's a long name for a freshman and it's a lot to learn, but it was a really good experience," Terry said. "It made me realize how interesting medicine is and how important research is in finding treatments and cures for diseases that patients are battling right now."
For her honors thesis, Terry is surveying students' perception of OSU as a research institution and how it influences their decision to get involved in research on campus.
This summer, Terry worked as a CURE Scholar at Stephenson Cancer Center in Oklahoma City focusing on understanding a protein which causes the development of glioblastoma, a type of brain cancer, in the pathology research lab.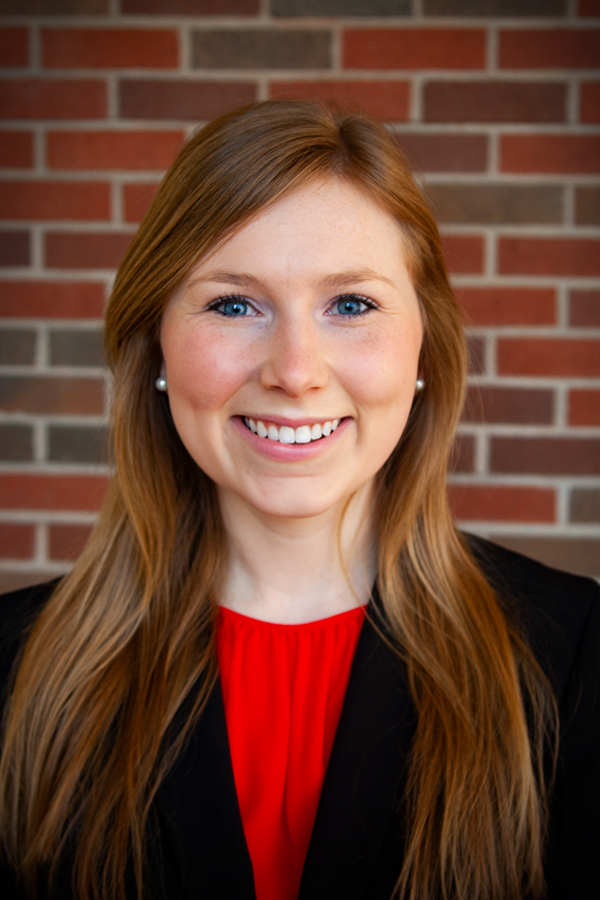 "Collaborating with fellow undergraduates, medical students and postdoctoral students in the research lab taught me how to effectively communicate and contribute as a team member to overcome challenges and accomplish our team's goals," Terry said. "I was one of two summer researchers chosen for the outstanding poster presentation and to present my research at the capitol in the spring."
Terry served as president of the College of Arts and Sciences Freshman Student Council and was a member of the President's Leadership Council her freshman year, where she had the opportunity to go on a study abroad trip to the United Kingdom her first summer at OSU.
She has been serving as a member of the CAS Student Council since sophomore year and was the CAS Student Government Association Senator during her sophomore year.
"I feel like I grew a lot in my leadership abilities by leading our team and helping the organization achieve its goals." she said. "Serving on the leadership team for the Student Foundation alongside talented student leaders has helped me to become a more well-rounded leader."
Currently serving as the president of the OSU Student Foundation, Terry will be president of Mortar Board, a national honor society of college and university seniors, for the upcoming school year.
The OSU Student Foundation is responsible for raising donations to fund new buildings, provide scholarships to those with financial hardships and rewarding outstanding students. Its goal is to encourage students to give back to school while they attend.
"If the students are giving back before they graduate, they are more likely to give as alumni," Terry said. "Helping grow the spirit of philanthropy on campus by encouraging students to become donors and getting to build relationships with OSU alumni has been the highlight of my college experience."
Terry has also been involved on campus with her sorority.
"During recruitment, Chi Omega's Wish Week was the one that stuck out to me," she said. "We have a week in the fall where we do different events to raise money for the Wish Kids from the Make-A-Wish Foundation which allows them to pick whatever wish they want, having the opportunity to help grant wishes and bring these children and their families joy during such a difficult time has been one of my favorite aspects of being in Chi Omega."
With her charitable heart and passion for helping others, Terry received for the 2019 Women for OSU Scholarship, a philanthropic fund which hopes to inspire leadership among a diverse group of visionary women.
"First and foremost, to me, philanthropy means service, and it means dedicating time to taking care of others," Terry said. "The easiest form of giving is to give your time. As an aspiring physician, that means spending time investing in my patients and also investing my energy toward caring for members of my community."
Terry also discussed her involvement with the OSU Student Foundation and the Cowboy Strong Student Emergency Fund, which was established in 2016 to ensure that no student misses out on the Cowboy experience due to an unforeseen emergency.
"For me, education is so important," Terry said. "Having someone say, 'Hey, I believe in you. I'm going to take care of this extra little bit,' would mean the world to me."
She added, "StuFu encourages students to find their Orange Passions and to give money to that passion and give selflessly to other students. For me, research is one of my Orange Passions and so are health care and education. That's why I've given every year to the Cowboy Strong Student Emergency Fund, because I think it's important we support our fellow Cowboys and we provide the resources they need when they need help."
Terry made sure she's taking all that OSU has to offer during her time here. On top of her outstanding academic and research work, she also studied abroad in England, Ireland and Wales the summer after freshman year.
"It was really cool to learn about different philosophies on leadership," she said. "I love traveling and learning about different cultures."