Kathryn Biehl experienced so many emotions as she walked into the College of Arts and Sciences Commencement Ceremony on Dec. 15, 2018. Like her peers, she was proud of her accomplishments, excited to start a new chapter in her life and sad about the end of her undergraduate experience. She was also in the unique position of being terrified of tripping while carrying a banner she described as "a giant sail and the air conditioning was on full blast."
Biehl was chosen as the CAS Orange Gown Graduate. She led the students into Gallagher-Iba Arena while wearing an orange cap and gown and carrying the ceremonial banner representing the college.
"It was so fun and nerve-wracking at the same time!" Biehl said. "I was so scared I was going to trip and fall in front of everyone but, luckily, I didn't. One wrong step and I would have fallen on my face. It was also so cool to walk down that aisle, knowing everyone in my college was behind me. I felt like a superstar!"
The native of the Dallas suburb of Frisco, Texas, came to OSU to pursue her dream of becoming a veterinarian. She fell in love with the campus and people of Stillwater and knew this was the place where she could "grow and mature."
In addition to majoring in zoology and minoring in microbiology, Biehl was involved in the CAS Student Council, the Honors College and Zeta Tau Alpha sorority. Along with the Orange Gown, her other top honors were a Wentz Research Grant and the Departmental Honors Degree.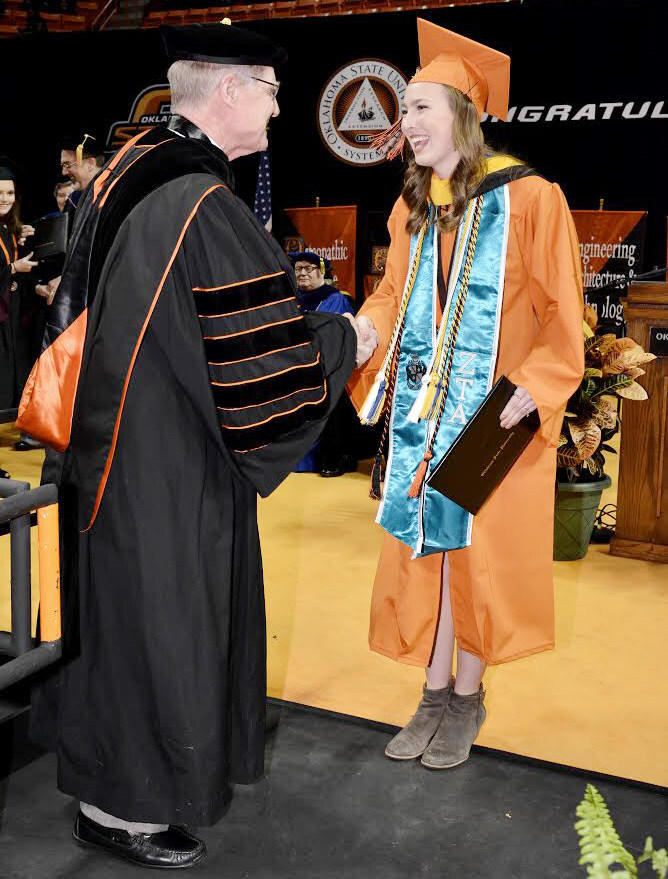 "I think my biggest challenge was time management," Biehl said. "I tried to overload myself every semester so I could get everything out of OSU that I could. I honestly just love to learn. I love knowing everything about the world around me, and my classes gave me that knowledge."
She added, "Sometimes it was hard to stay motivated, but I think what kept me going was thinking of the future and how I will never get another chance to learn this much. I had to make the most of my time."
Even though she was "overwhelmed and exhausted" at times, Biehl "pushed through and came out the other end a better and stronger person."
She was surprised to be chosen as the Fall 2018 Orange Gown Graduate among many "amazing and accomplished" people. Each semester, faculty and advisors nominate graduating students for the honor of leading their respective colleges into commencement and receiving the first diplomas.
"It really validated all of my hard work and dedication throughout college," Biehl said. "Honestly, I kept expecting them to call me and say, 'Oh no! We made a mistake. You aren't actually the Orange Gown.' But they never did, and I'm so glad they didn't."
Two of her favorite classes were biochemistry and vertebrate morphology, which gave her a preview of how vet school will be. She named Donald French as her favorite professor.
"I had him for honors biology, and he made the class so interesting and interactive," Biehl said. "My last semester, I worked with him as a biology T.A., which was so fun."
She can't pinpoint her favorite memory of OSU.
"Obviously, Homecoming is one of my favorites, but I loved the regular days too," she said. "I loved being a part of Greek Life, studying in Edmon Low Library and eating at Baja Fresh with my freshman-year roommate…There were so many big, fun things I did, but the day-to-day stuff was also so memorable and fun."
She encourages incoming freshmen to "live college so you don't look back and regret anything because it goes by so quickly."
She also wanted to share a few thoughts with her graduating class.
"College is exactly like a roller coaster," Biehl said. "It was so fun and terrifying, and it'll make you laugh and cry all at the same time. It went by so quickly, but I could not have been more blessed by this university."
She is an intern at the Society for the Prevention of Cruelty to Animals shelter in Wellington, New Zealand, where she assists veterinarians in the treatment and care of animals.
"OSU greatly prepared me for my internship by teaching me about responsibility and time management," she said. "This will allow me to be very successful in the real world."
Upon concluding her internship, Biehl plans to attend veterinary school with a focus in small-animal surgery.