College of Arts and Sciences student Alexandria Perez found her passion in the ROTC program at Oklahoma State University. Perez, a sophomore from Stampford, Texas, plans to go to medical school after completing her Baccalaureate in Biochemistry.
Her grandfather, who suffered from diabetes and other medical issues, was a major influence on her degree choice. She helped care for him, even administering medication, from a young age.
"It was there I started thinking, I want to be a doctor," Perez said.
Now a student of OSU and a member of the Air Force ROTC program, Perez acknowledges the roll her Marine-Corp father played in the decision.
"When other parents would just call their kids, my dad would shout, 'Allie! Front and Center!'" she said, "We would go down to the commissary, and my dad would be getting groceries, and I'd be trying on the uniforms on the racks. And that's where my desire to serve really began, but it wouldn't be until high school that the thought occurred to me: My dad has done his part, it's my turn to do my part"
Perez's journey to the College of Artsand Sciences began when a high school friend came to OSU to play football.
"He was constantly telling stories of what a great college it was," Perez said, "At the end of our senior year, some friends and I planned a school tour with our parents."
Coming from a small town, Perez and her friends' concerns of moving to a college town were quickly put to rest.
"It's a college town, yes, but it has such character and small-town atmosphere at the same time," Perez said. "When we walked around the campus, it was so beautiful. It was just positives stacking on top of more positives."
Perez enrolling at North Oklahoma College for her freshman year, as a member of NOC's Gateway program. "That first year," she recalls, "I didn't really do anything: I kept to myself, went to classes, and that was pretty much it."
All of that changed in the spring semester of 2016. Perez's father, now working at the post office on base, started talking to the women officers that he would encounter. He began passing that information on to his daughter. "I started thinking, Why not?" Perez said.
Her father discovered that OSU had an ROTC program through the College of Arts & Sciences.
"We went on a tour, and met with Major Susan Newton, an Operations Flight Commander, and she was very helpful. She told me, 'this is what you can expect from us, and this is what we'd expect from you.' And I just thought, 'Sign me up.'"
It was advice given by classmates in the ROTC program that convinced Perez to major in Biochemistry with the eventual goal of taking the MCAT for medical school. For a time, Perez contemplated nursing school.
"Growing up, as my grandpa got sicker, we were in and out of hospitals," she said," I got to see and witness first-hand how the doctors interacted with the families, giving care and comfort. And that's when I started thinking, I want to be a doctor.'"
The growth Perez has experienced in the ROTC program has not been solely physical.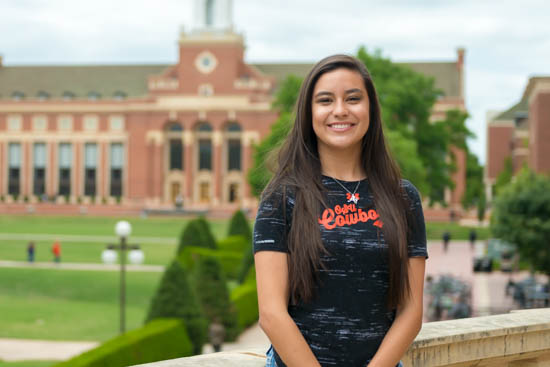 "When I first came to the program, I thought that I would blend in, like a sheep in the herd." Perez said. "Then the cadre, the upperclassmen, and the officers themselves, they came alongside us and took an interest in each of our success and how to overcome our personal challenges. There are the fire-team tactical trainings, in-field care, and the paintball field simulation. All have helped me learn that the first step of becoming a great leader is to be a great follower."
Perez remembers getting the call informing her that she had been appointed Physical Fitness Officer Assistant or PFOA for her flight.
"It's a job that I've always wanted, but I was too shy to put myself out for," Perez said. "Now I have the morning PT sessions, 6-7 a.m., where I am in charge of a group of people and have to lead them."
"I used to be an extrovert, in the beginning of high school," she said. "And I slowly became shy and reserved. However, ROTC is making me open up again. "
It hasn't been all work and no play for Perez. She has enjoyed attending the OSU football games.
"It just felt like home," she said, "All of these people, all engaging, all cheering for your team! You get to know the people in your section, and the tailgating is an incredible experience."
So where does Perez see OSU and the Air Force ROTC program taking her?
"Where will I be in fifteen years?" she said. "I will have already graduated from Med School, and when I graduate, I will be a Captain in the Air Force, serving my country as a doctor. Whether that means boots-on-the-ground First Aid in battlefields, or treating families back on a base, I'm not sure. But, I'm looking to the future. This is what I want to do, and I want to be there for other families who are going through the same thing that my family went through."