It has been a long journey to get to OSU for Christian Blacet, his perseverance and dedication is paying off one day at a time though. Blacet, a philosophy student at OSU, is an accomplished junior who is also in the Honors College.
Blacet came to Stillwater after a battle with homelessness and substance abuse. His mother had recently got out of a poisonous relationship and Blacet, only a junior in high school, began his struggle with addiction.
"We started sleeping in the SUV my mother owned, and I slowly began going to school less and less," Blacet said. "After a few months of sleeping in the car at a park behind my school, and at various truck stop gas stations, my mother lost her job due to taking medical leave. We decided to leave and go to some other town."
Fresh beginnings seemed promising for Blacet and his mother. They moved to Ponca City, where they were able to scrape together money and get a house, and he was able to find work at a local fast food restaurant, when substance abuse resurfaced.
"I fell back into my same old routine which only became worse," he said. "After a while, I found myself going on a rampage in the home my mother and I gathered our funds up to pay for. My mother wanted me to get help, and as a result I reserved myself to go with my grandmother to receive treatment."
Numerous circumstances lead to further setbacks, but Blacet was able to find help through Youth Services of Tulsa, which assists homeless youth in the Tulsa area. Through the program, he met a woman he would eventually marry. They both started taking classes at Tulsa Community College, and Blacet decided to study something that he had a true passion for: philosophy. His first interaction was in fifth grade after reading "The Allegory of the Cave" by Plato. He learned there were different ways to look at a situation and he wanted to dig deeper. As he got older, he broaden his readings to Friedrich Nietzsche, Confucius, and he enjoyed the fictional stories of Albert Camus.
Blacet quickly got involved on campus with student government, North Regional Director of Oklahoma Student Government Association and Ethics Bowl. He was the former president of Off Campus Student Association, and is currently the president of the Phi Sigma Tau Philosophy Honor's Society's OSU branch. Even with his success in college, he still finds certain things difficult.
"Time management has been one of the most challenging things for me," he said. "I never learned time management, I never had to, and now I essentially have to keep myself to my own schedule and that's difficult. Knowing from my past experiences, I know I have willpower, it is a matter of using it effectively."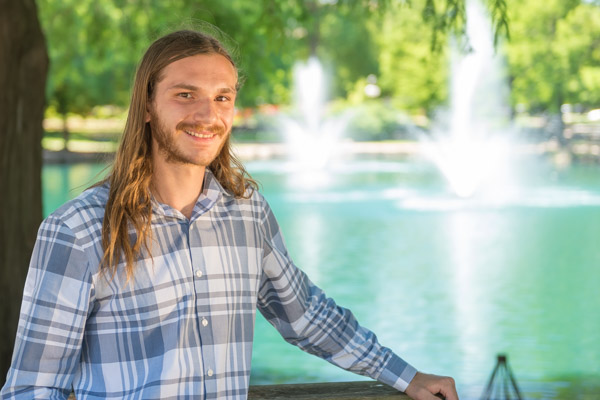 In February 2017, things took another turn as Blacet and his wife welcomed a baby girl. He became devoted to ensure his daughter's life was free from the pain and struggles he had to experience himself. He focused on being the best father and proving that to her through his work.
With his dedication to his wife and daughter, Blacet is driven to complete his goals more than ever, hoping to eventually teach philosophy.
"One issue I want to focus on is getting people out of poverty," he said. "There are droves of people who have potential beyond comprehension, but they are stuck in this circle that keeps people down. It is more expensive to be poor. I also want to focus on education, because I think these two are intertwined. When you are more educated you have more opportunities."
Blacet, who has just under a 4.0 GPA, plans to continue to graduate school and eventually gain his doctorate.
"Everyone makes mistakes," he said. "It is what we do afterward, and the help that so many desperately need that often times is not found, that determines our path forward. We may not all be responsible for the lives of others, but we are responsible for the help we did or did not extend."