With the closure of campus mid-semester, OSU's classrooms and concert halls alike have been unusually quiet. But in late April, the Seretean Center for the Performing Arts got a welcome visitor: Dustin Boatright, a music education major in the Michael and Anne Greenwood School of Music, came to record a three-song set for CAS Spring Commencement with the help of his voice professor, Steve Sanders.
"It was just us in the building," Boatright said. "We set up the stage, had a little podium there, I threw on a cap and gown and we recorded three songs: the national anthem, 'Oklahoma!' and the alma mater."
If the school year was ending like any other, Boatright would be performing the songs live at graduation for his fellow CAS classmates and other attendees. But due to COVID-19, the ceremony has been moved online. The Edmond, Oklahoma, native said the situation is disappointing but unavoidable and ultimately "not the end of the world."
"It's exciting that I still got to do it," he added.
Boatright was chosen for the honor by the entire music faculty, according to Sanders, who is an associate professor of voice and opera at OSU.
"It is a testament to his talent and character," Sanders said. "Dustin is a naturally talented vocalist and actor. He continually works on his craft and betters himself in all areas."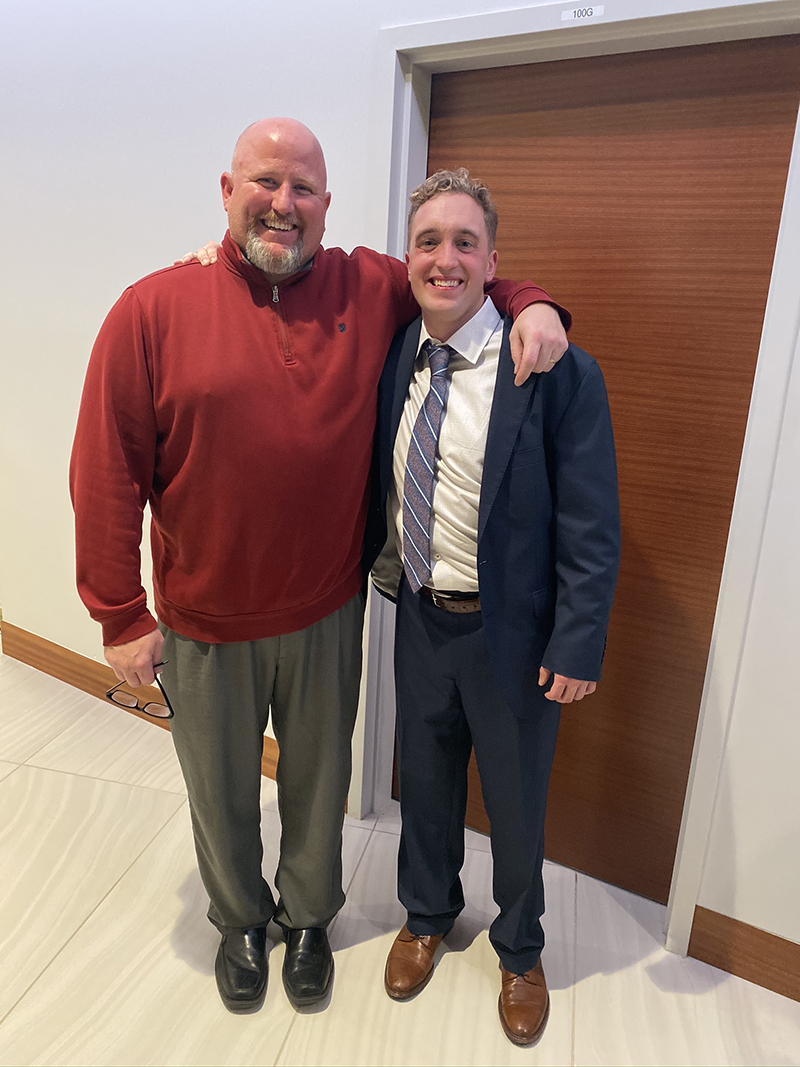 Sanders continued by saying that Boatright sets himself apart not only as a performer but as a "leader and inspiration … by the way he conducts himself."
"He leads by example and does his best with the task at hand, no matter what that may be," Sanders said. "He is the first to offer help, many times before you even ask for it."
While he has made an impression on the music faculty over the past four years, Boatright said it was the reputation of the music school that drew him to OSU in the first place—it just took him a little while to commit to the music education program.
"My freshman year I was a business major," said Boatright, who happens to be the only Cowboy among his five siblings. "But I was still in the top choir at OSU, I was taking voice lessons, I was studying music theory on my own. I was way more involved in music than I ever was in business. So during my second semester I came to my senses and said to myself, 'What am I doing? I need to do music.'"
Since then, Boatright has taken full advantage of the many music-centric opportunities at OSU, including performing in several operas, touring Europe with OSU's premiere choral group and taking part in musical theater—he played the lead role in "She Loves Me" and Jud in "Oklahoma."
As he finishes his student teaching and prepares to start his teaching career at a middle school in central Oklahoma in the fall, Boatright hopes to provide similar opportunities to his future students.
"It's so important for kids to be seen and know that they matter," Boatright said. "And I think musicals are a great way to do that—to get out of their comfort zone and try something different, to be pushed in a way that maybe they never will outside of that experience."
Thinking back on his own time in middle school and high school, Boatright said his choir teachers "had a huge impact on my life and education."
"They were a huge reason that I wanted to be a music educator and go into this field," he said. "I want to have an impact like they did on me."
Boatright added that being at OSU has only strengthened his desire to teach because "it cultivated in me an understanding that teaching is more than singing the right notes and doing well in contests. It's about making memories and creating a community for kids who need it and thrive on it and love it."
COVID-19 may change how Boatright enters his first year of teaching, but he also sees a silver lining to the pandemic in how people are appreciating the arts.
"What's everybody doing right now? They're at home, they're watching movies, they're listening to music, they're reading, they're creating—it's the arts," Boatright said. "The arts are a way to contribute to something greater than yourself. They're keeping the world going right now, at least in my eyes."