Allie Williams faces all the usual challenges of life as a college student, plus the challenges that come with spinal muscular atrophy, "a disease that robs people of physical strength by affecting the motor nerve cells in the spinal cord, taking away the ability to walk, eat, or breathe," according to Cure SMA.
Her wheelchair is empowering but not limitless.
"Two inches can keep me from a world of opportunity," Williams said. "This chair can hop over a six-inch gap, but it's stopped by a two-inch step or a doorway two inches too narrow."
The music junior sometimes encounters unexpected challenges working toward her goal of becoming a music teacher. But she was recently bolstered by unexpected support as the inaugural recipient of the Janice C. Jones Endowed Wheelchair Scholarship.
"I checked my email just before bed and I saw the message," Williams said. "I was like, 'Oh. Wait, what? This happened? What?'"
Megan Pitt, Williams' academic adviser in the Greenwood School of Music, nominated her for the award.
"Allie works so hard," Pitt said. "She has dealt with so many challenges in her life, and she just keeps coming back. She has so much courage and bravery, and I couldn't think of anyone more deserving of this scholarship."
The scholarship honors Janice Jones, a 1972 family relations and child development alumna who died in 2017 from complications related to multiple sclerosis. Her husband, Brent, and sister, Gay, created this scholarship in her memory.
"I am so grateful for the generosity of Brent and Gay, who I met at the College of Arts and Sciences Awards Banquet," Williams said. "They were really sweet, and we email now a little bit."
Williams is three semesters from completing the OSU music degree that she originally planned to pursue after graduating from Pryor High School in 1999. But she was overwhelmed by the prospect of moving over 100 miles from her parents' house, so she stayed closer to home. She attended Rogers State University in Claremore, Oklahoma, which was less than 20 miles away.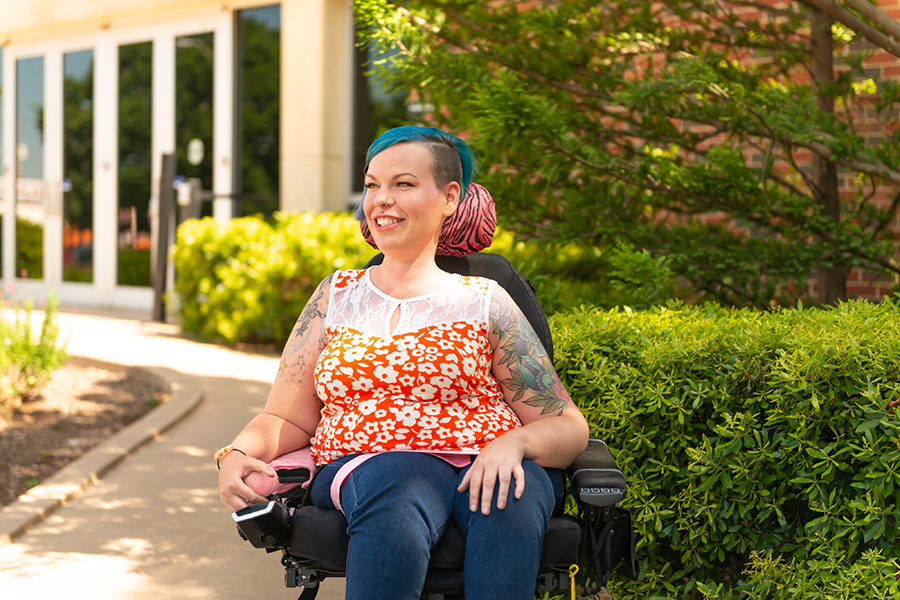 She completed an associate's degree in graphic art and began substitute teaching at her old school, as well as providing private voice lessons. That solidified her desire to become a music teacher, but her life took a turn when she moved to Colorado to be closer to her future husband. When they divorced after 11 years, Williams considered what to do next. Her best friend, Donna Waldrop, made a suggestion.
"I lived in Enid, and I encouraged her to move back to Oklahoma and she ended up living with me," Waldrop said. "I couldn't think of anything more wonderful than being roommates with my best friend. We talked about her goals for the future, and I reminded her that she had a new start. She didn't have to settle."
Williams said Waldrop wouldn't listen to any reasons why Williams couldn't attend OSU and become a music teacher.
"She said, 'Do it. I'll take care of you while you're at school. Let's do it. Let's push,'" Williams said. "And she pushed me really hard."
Waldrop added, "I don't think one can be too old to follow a dream. Retaking our lives as our own is something everyone should feel free to do, and I just wanted Allie to remember that she still had options. So I pushed her to follow her passion."
When the daily hour-long commute from Enid to Stillwater got to be too much for the duo, Waldrop quit her job and moved with Williams to Stillwater. Now they are working with Habitat for Humanity to build a home, including a caretaker room for Waldrop.
"I am able to hang out with my best friend and care for her needs at the same time," Waldrop said. "I have a heart for service, so she helps me fulfill my desire to help people. Along with volunteering at Habitat for Humanity, we also volunteer together at a summer camp for disabled people called Make Promises Happen, and we find other service opportunities."
In June the pair watched the Tony's together as Ali Stroker became the first wheelchair user to win a Tony Award. Stroker was named Best Featured Actress in a Musical for her portrayal of Ado Annie in the Broadway revival of Oklahoma!
"Ali is very talented and has done so much even while fighting all the accessibility issues stacked against her," Williams said. "She deserved to win the Tony, and that win magnified the fact that even in such a program, where there is lots of funds, prizes and fame, there is not lots of access. They knew she was nominated and she was performing during the show, and there still wasn't a ramp onto the stage.
"I am so glad that she is trailblazing, making Broadway more diverse and accessible."
Williams is making OSU and the Greenwood School of Music more diverse while pointing out accessibility issues such as places without ramps. And in the process, the physical work she puts into singing is making her stronger, even as she performs with basically the top half of her left lung.
"My doctor told me my lungs are getting better, which is not a thing that happens with this disorder," Williams said. "It is not a thing. So because I am using music and singing as therapy for my body, I want to incorporate that into my teaching. I've been told my whole life that I shouldn't sing because I wouldn't have the lungs. Stop telling me what I can't do because I'm going to do it anyway."
She added, "I do the best I can with what I have. I want to encourage people who have always been told no."