1 is 2 Many, a White House initiative in response to the increased attention around sexual violence on college campuses, is one of Seraiah Coe's philanthropic passions.
"I worked on a presentation on what a healthy relationship is and what consent is," Coe said. "I don't see that taught in high schools and that's a really big issue because a lot of the girls I mentor either were or are in an abusive relationship. There are not really resources taught or mentioned about that in most sex ed."
Coe is deeply passionate about educating young adults on the definition of healthy relationships and believes this is an "important part of the recovery" from a personal experience. She presented her plan to her hometown high school principal in McKinney, Texas, and got approved to present the information to health class in the coming fall semester.
"Something I'd like to do along with working with wildlife is implementing a curriculum on healthy relationships and consent that's taught in middle and high schools," Coe said. "I don't know how we're still not teaching about it. It's something that's almost taboo to talk about at least in the high school I came from."
"Totally Taboo," a campuswide education series Coe is designing to focus on "healthy relationships, consent and the freedom of students to anonymously ask questions about things they may be too nervous to ask originally." The course is to be implemented for the upcoming semester.
"If I'm able to present this and at least be able to help one person, then that's one life that's hopefully made better," she added.
Coe is a 2019 Women for OSU scholarship recipient and a junior double majoring in biological science and natural resource ecology and management with a minor in zoology. Her dream job is head zoologist for the San Diego Zoo Carnivore Department.
"Seraiah came to me and told me she wanted to be one of the Top OSU Freshmen," said Dr. Karen Hickman, professor and assistant dean of the College of Agricultural Sciences & Natural Resources. "She strives to be one of the best, and she's not hesitant to go out of her way to ask questions. She has that internal drive, that self-motivation and competitive strength where she wants to make an impact. The Women for OSU scholarship will definitely help her network and achieve her goals."
Coe had always wanted to be a veterinarian, and she had the chance to work with animals when she moved next door to her high school's FFA teacher. Through FFA, Coe raised Boer goats for showing. She was responsible for exercising, brushing and training the goats, and taking them to shows.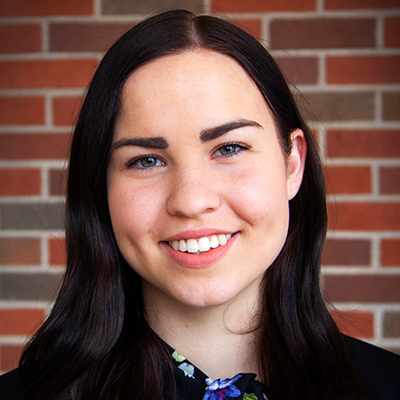 Coe had been shadowing at a veterinarian's office throughout high school to gain experience and prepare herself for a career in wildlife medicine. This made her realized she'd much prefer something hands-on and more interactive with animals.
"I was able to see what it meant to be a vet including the cost, times, repeating the same surgery over and over on top of being in school for almost 15 years and mostly what I'd be doing would be paperwork," Coe said. "I also realized that throughout college, I'm a very social person which I didn't really think about until I got here and started getting involved."
After taking an introductory biology course, Coe "fell in love with the aspect and intricacy of human biology" and wanted to incorporate that into her major.
"That's when I found biological sciences in CAS as well as zoology," she said. "It's like doing the animal and the human side together."
As a freshman research scholar, Coe attended a research presentation for extra credit and discovered her interest in feline studies. She realized the opportunities for her to conduct a follow-up study and explore more options.
Coe started a mentored, independent research project, The Abundance and Proportion of Sterilized Free-Ranging, Domestic Cats Following of Five-Year, Trap-Neuter-Release Program, under CASNR professor Dr. Scott Loss and Ph.D. student Jared Elmore.
"Seraiah approached me as a freshman with clear goals and objectives related to her time at OSU as well as her eventual career," Loss said. "She has shown all the signs of an extremely promising young scientist in addition to her impressive achievements in the classroom."
Loss added, "This level of preparation, foresight and reflection is extremely impressive in any undergraduate student. Seraiah has only continued to impress me in all ways after nearly two years of working together on this project."
"Operation Catnip" has been operating out of the OSU Center for Veterinary Health Sciences for five years, neutering feral cats then clipping off a small portion of the ear for marking. Coe's study focuses on the effect of this on local feral cat population.
Coe and her team set up cameras at 15 different locations throughout Stillwater and collected photo data, then used MARK, a software application which provides parameter estimates from marked animals when they are re-encountered at a later time, to estimate the population after TNR, the cat-control method that Operation Catnip uses.
The team is wrapping up the data analysis over the summer and plans to move on to writing the manuscript in the fall. Coe presented the study at the Oklahoma Natural Resources Conference in February and the Minority in Agriculture, Natural Resources and Related Science 34th Annual National Conference, where she won the undergraduate oral research presentation.
"Seraiah came up with this project with the intention to be published in journals," Elmore said. "Freshmen don't usually do that. She had an idea of what she wanted to do. She's unique."
Elmore added, "She sorted through about 10,000 photos, documenting and identifying individual cats She's really excited about writing the manuscript and coming up with follow-up plans after the TNR and the response of the cat population voluntarily in her free time, taking about 21 hours of course work while maintaining an excellent GPA."
Coe is interning at the Dallas Zoo's carnivore department over the summer and will be a 1 is 2 Many educator for the 2019-20 school year. She is also a Community Mentor on campus and volunteers at Our Daily Bread, Tiny Paws, Stillwater Humane Society and the Grey Snow Eagle House in Perkins, Oklahoma.
"The amount of support the university and Women for OSU has given me is incredible. Just having extremely powerful and successful women say, 'We're really proud of you, and you're going to do amazing things,' makes you feel very responsible for that gift," Coe said. "Hopefully, the next two years on campus I can continue in this hopeful line of positive change, and that's my goal."