Caroline Graham decided she wanted to be a researcher as a young girl. She was inspired by a National Geographic article about the study of microbes in the ice of Antarctica.
"I thought that'd be so cool, so I came to OSU because I wanted to do microbiology," Graham said. "I figured out that wasn't for me when I got into a research lab. After thinking about my skills and what I want to do, I decided that I want to go to dental school instead."
The native of Midwest City, Oklahoma, is headed to the University of Oklahoma's College of Dentistry. She completed an Honors College degree in May with a double major in microbiology/cell and molecular biology, and biochemistry, along with minors in chemistry and accounting. Among the many awards she earned were College of Arts and Sciences Top 10 Seniors and recognition among the OSU Alumni Association's 15 Outstanding Seniors.
She chose dentistry—and is thinking about specializing in oral surgery—because she wants a career that provides a constant learning experience throughout her life. In addition, dentistry will allow her to "combine artistic talent with science while interacting with people."
Graham added, "I was thinking about how much I love to smile, and I think a smile is the beginning of love. If I can share that with other people, what better thing to do than be a dentist and share that love with others?"
With her mind made up, Graham looked into how to become a successful dentist.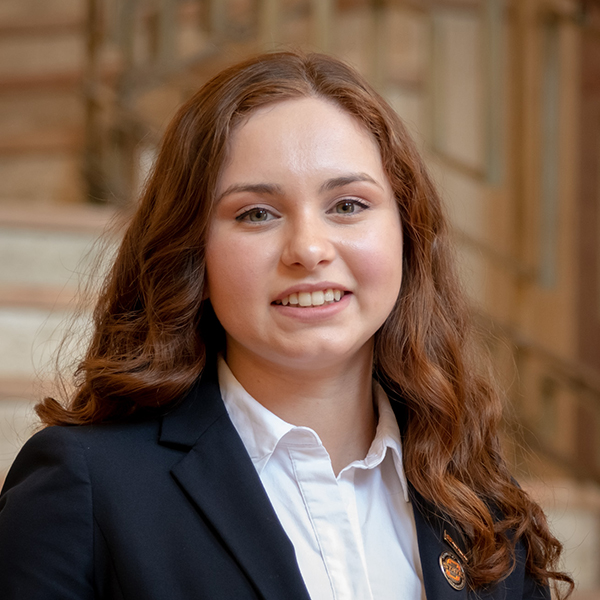 "After speaking to many dentists, they all said, 'We had one business class in dental school, and you're expected to run an entire business when you open your own clinic, so definitely take some business classes if you can,'" Graham said. "Being in a tax course is so different, but I enjoyed it a lot. I felt like a freshman again because in science classes, it's mostly tests but in a business course, there's a ton of homework, quizzes, projects and group project, which you don't get in a science course. It's a different environment."
During her junior year, Graham was a Niblack Research Scholar. The program, administered through the Office of the Vice President for Research, provides scholarship funds and the opportunity to conduct research guided by faculty sponsors and graduate-student mentors.
With a curious mind, Graham was unsure what kind of research she wanted to do. She took a microbiology courses and ended up in Dr. Babu Fathepure's lab studying different bacteria related to biofuel production and development.
"One of my projects focuses on converting plant biomass into biofuel, and Caroline's work covered the degradation of lignin from biomass for improved availability of plant sugars for fermentation and biofuel production," Fathepure said. "She is punctual, smart, hardworking and methodical. All are very important traits in research."
Fathepure added, "She writes down everything she did at the end of each lab and that is very important in a research process."
Graham incorporated the research project in her honors thesis after two and a half years of hard work.
"I picked up a project and developed it with a different bacterium," she said. "I studied the potential to degrade different chemicals that are similar to plant lignin and cellulose and hemi-cellulose."
Graham was president of Alpha Epsilon Delta, a national pre-health honor society with a wide variety of students who major in health-related fields and work hard to sponsor treatments and give back to the community. She was also vice president of external services for the National Residence Hall Honorary, a leadership group for the top 1 percent of on-campus leaders in America.
"We host study-thon in Kerr-Drummond," Graham said. "We have breakfast, lunch, dinner and snacks… second dinner and everything. People can come to study in a different environment and not have to worry about, 'Where am I going go to eat really quick and come back?' You just stay there, eat and study."
Graham also volunteered with Our Daily Bread, soup kitchens, humane societies and the Ministries of Jesus in Edmond, which provides free medical care and counseling. She volunteers on the dental cleaning days, mostly helping with clerical works.
"The clinic helps people who don't have any insurance at all, and they get free treatment—not only physical but emotional too. I think that's a great aspect," she said. "I'd love to give back to my community when I become a successful dentist."