Zachary Kensinger of Enid, Oklahoma, really pushed himself to get involved on campus from day one. He started with the Arts and Sciences Freshman Forum, which is now called Freshman Student Council, before joining a plethora of other organizations.
"I have actually learned that I do better academically being busy," Kensinger said. "I think a lot of people actually learn that because if you have a lot of free time, you probably aren't doing anything productive."
Kensinger's need to stay busy has allowed him the opportunity to work with various organizations and serve on the executive teams of multiple organizations. His work with the Native American Student Association, where he served as both service chair and vice-president, has given him chances to learn about his own tribe, the Cherokee Nation.
"My mother's father is Native American, so I am part Native American. I didn't really grow up learning a lot about that culture, so when I got to OSU and saw there was an organization where you could learn a lot about it, that really interested me," Kensinger said.
He has also worked for the Center for Sovereign Nations, which is affiliated with the Native American Student Association. The Center for Sovereign Nations has a three-fold mission: Students, Partnerships and Sovereignty.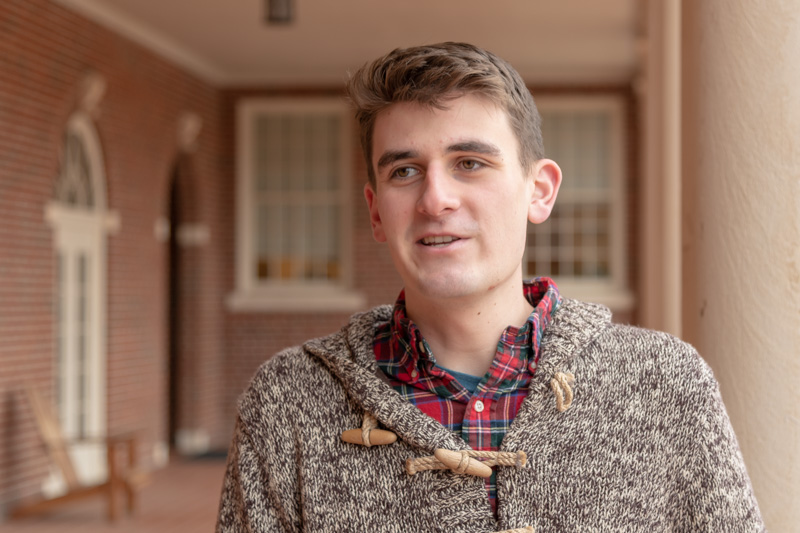 "The sovereignty element is what I think is the coolest," Kensinger said. "We have speakers from tribal nations come and talk to students about sovereignty. Being in the state of Oklahoma, we have 39 federally recognized tribes. We have the second largest Native American population in the United States, so it is a really cool environment. I think it is something that everybody at OSU and in the United States should certainly know about."
Kensinger is a double major in political science and philosophy whose goal is to work in public policy. He thinks his time spent with the Native American Student Association and the Center for Sovereign Nations will aid him in the future.
"In government I have worked on the state level, the federal level, and also in tribal nations. So, I have a trifecta going on there in government, which I think is valuable. Something else I learned this summer is that so many people in Washington, D.C., don't really understand tribal sovereignty and stuff like that very well. So, I would say it's a valuable skill going forward," Kensinger said.
His work in SGA, where he has served as a College of Arts and Sciences Senator, the Chief of Staff, and also a Greek Senator, has also helped prepare him for working on public policy.
"I would say one of my favorite memories was getting to do Indigenous People's Day. I was able to pass legislation to recognize Indigenous People's Day at OSU and then I planned an event taking place in the fall of 2017."
The College of Arts and Sciences has certainly prepared Kensinger for a successful future by giving him opportunities that he has tried to take full advantage of. Yet, by being so involved Kensinger has definitely made a difference in both the college and the campus as a whole.
"What I really like about OSU is that you never feel like you are on your own. The faculty, staff and students are always there to help you. You know, no student should fail, because we have so many different types of support systems."