It was a cool, quiet day across Paris on July 15, 2018, as Ana Solis sat on the edge of her seat staring at the TV. The whole city was silent even with the windows open. Then, France scored the final goal to win the 2018 World Cup. The city erupted.
"It was insane," Solis said. "I'm a huge soccer fan so it was the greatest moment of my life, being in France as they won the World Cup. There were thousands of people celebrating. I was able to be a part of that thanks to the Bailey Family Memorial Scholarship. I wouldn't have been able to pay for that on my own."
Solis, a senior majoring in Spanish and German with a minor in French, studied for two months in France with financial support from the Bailey. Her apartment for the first month had a view of the Eiffel Tower, a memory she will never forget.
Solis was one of nine students for the 2017-18 academic year who had the opportunity of a lifetime because of the Bailey.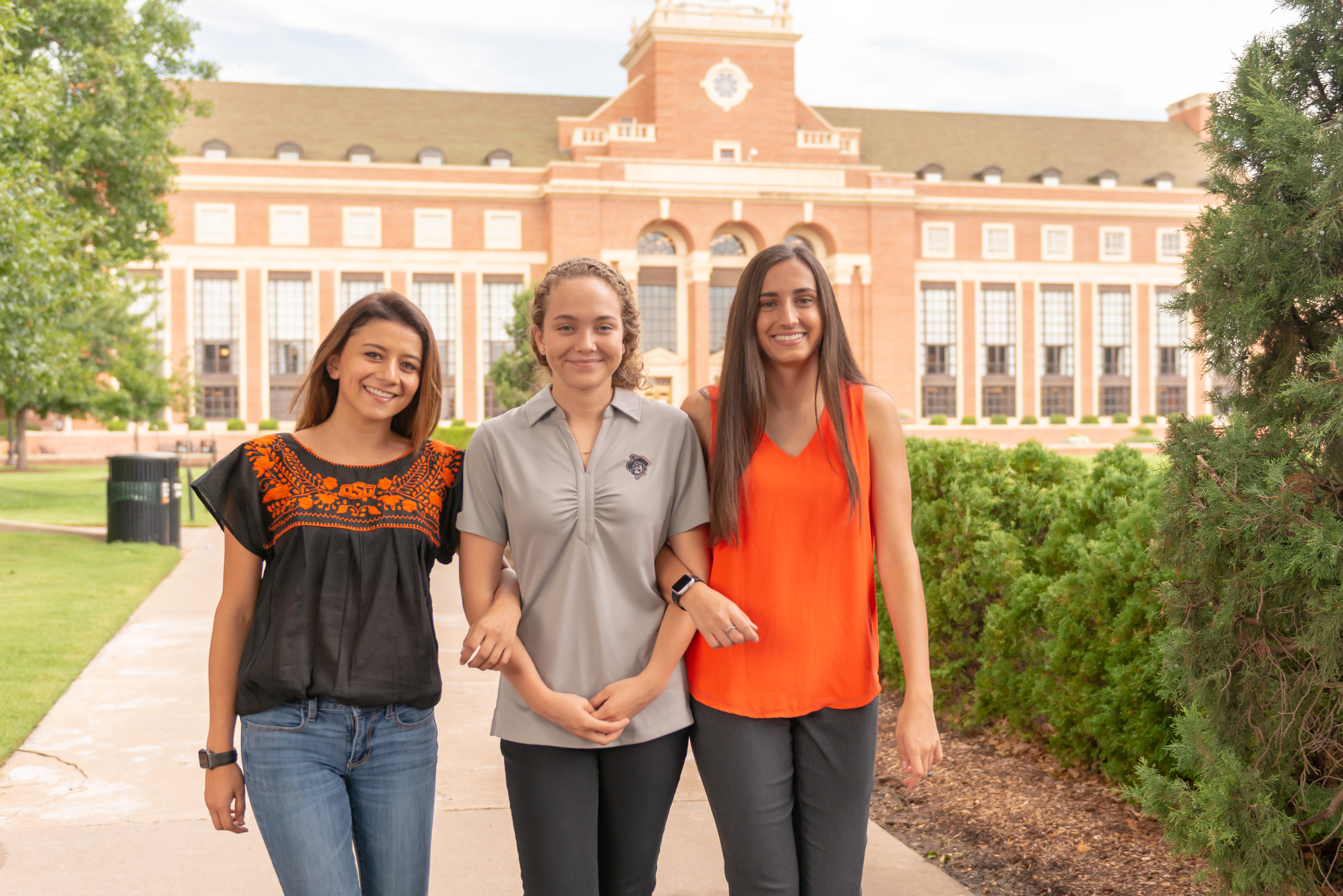 Established in 1982 by J.B. Bailey and his brother Richard E. Bailey, the scholarship encourages students to expand their knowledge by studying the liberal arts abroad. Since its initial award, the trust has awarded more than $2 million to students.
Sarah Soliman, a biochemistry and microbiology junior minoring in Spanish, had her own life-changing experience 7,200 miles away in Buenos Aires, Argentina.
"The scholarship covers a lot, including the classes and tuition," Soliman said. "It allowed me to travel to different parts of Argentina, where I visited museums and explored around the city with the money that I would have put toward study abroad."
One of the places Soliman visited was El Calafate, Argentina.
"We drove in at sunrise around 10 a.m. and the sky was purple and orange," Soliman said. "It was right over the lake and when we got to Los Glaciares National Park it was snowing and all you could see was the snow and then the bright blue glacier. In the afternoon, the sun came out and we could see the mountains that surrounded the glacier with eagles flying across the sky. It was remarkable."
Soliman was nervous arriving in Argentina since she wasn't fluent in Spanish, but her roommate for the summer was more advanced in the language and was able to help her.
"I took language classes and a lot of it was conversation-based," Soliman said. "All day we would learn Spanish in Spanish. It was exhausting. Then, I had to keep using my Spanish skills on top of that. But it really improved my conversational fluency. I thought I was still stuttering and struggling with it at the end, but my host mom said that I really had improved."
Avery Dutcher, a junior biology student with a Spanish minor, went to Oaxaca, Mexico, and also enhanced her Spanish skills.
"I feel like it would be close to impossible to become fluent from only being in class one hour a day, twice a week. It's too hard." Dutcher said. "Going abroad really helps you grow your skills. Taking classes in Mexico, you're fully immersed in the culture and the language, which helped me grow in my skills and in my confidence about speaking."
Dutcher, who dreams of going to medical school, had the opportunity to volunteer for the Red Cross during her time abroad. They utilized everything, even saving mayonnaise and Pedialyte jars to store medicine.
"They used a typewriter to type up their documents and that was an eye-opener," she said. "It just makes us realize how good we have it."
She also was able to work on medical terminology and work closely with medical staff. She was most impressed with how eager the doctors were to help her understand their practices.
"I never got the sense that they thought they were better than me because they have studied more. Seeing how that worked really inspired me to realize what kind of doctor I want to be," Dutcher said.
All three women claimed it to be one of the best experiences of their lives, and hope other students can take the time to apply for the Bailey.
"OSU does a really good job of providing the help if you need it," Soliman said. "You just have to ask for it."
The Bailey Family Memorial Scholarship application is open until February 1, 2019. Applicants are encouraged to apply by visiting the Bailey Family Memorial Trust site.