Oklahoma State University's Ethics Club, hosted by the Department of Philosophy, debates difficult questions. For example, is it justifiable to publish the names, addresses and employers of people who attend a public white-nationalist rally, which could lead to death threats or the loss of jobs for those listed? Or, should felons have their voting rights restored? If so, who should be eligible, and when?
The club's members research topics such as these and engage in lively debates to hone their ability to present strong, articulate and systematic arguments. Their hard work led to qualification for the 23rd Intercollegiate Ethics Bowl, to be held March 2-3 in Baltimore, Maryland, in conjunction with the 2019 Association for Practical and Professional Ethics Annual Conference.
OSU finished third in the Texas Regional on Nov. 23, securing one of 36 spots in the event's national championship. Qualifying for the IEB for the first time is a major achievement for the program, which formally began in 2015.
Daniel Trippett, a lecturer in the Department of Philosophy, is the club's adviser and the team's coach. He said the group was extremely well-prepared for the Regional, knowing the cases they were debating so well that they could answer virtually any question they might be asked.
"They had prepared all scenarios they could in their head," Trippett said. "And the team members are friends. They have a really special bond. We work hard and they wanted to do well, but they also wanted to have a really good experience. We were fortunate enough to have both of those things happen."
Ethics bowl competitions are similar to debate competitions, but a key difference is that both teams choose which side they want to argue. So they can disagree with their opponents, or agree but add points they think were overlooked or not adequately covered. Both teams go first on one question and then second on one question, and then judges decide which side scored more points.
"It's hard to explain to people, but once they see it, they often get really interested in it," Trippett said. "You have to be really quick on your feet and be a quick thinker."
Competing and winning are fun, but succeeding requires a lot of work.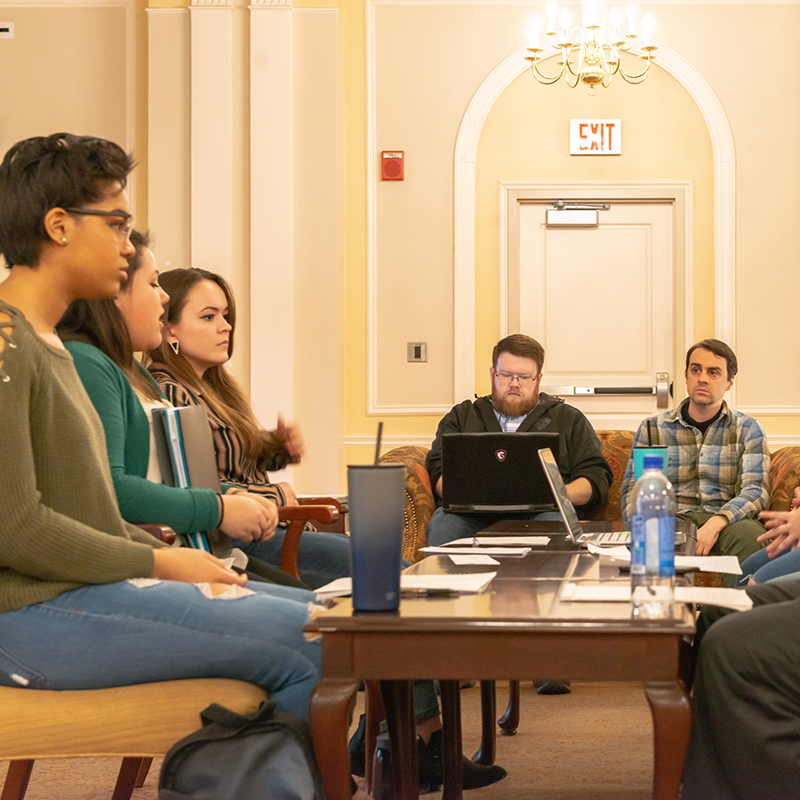 Daniel Trippett, right, watches the team practice.
"The group meets even without me," Trippett said. "They meet on Tuesdays and the teams go over the cases themselves. Then every Thursday night we practice for about two hours."
Scott Gelfand, head of the Department of Philosophy and a former ethics bowl judge, also noticed how much time they devote to preparation.
"They do a lot of research on their own and meet with faculty members who know about various topics," Gelfand said. "They put so much work into this. We have some students who are researchers for the group, and they don't actually compete because they would rather just help the team craft arguments and build knowledge about each case."
He added that this team benefits from its diversity, in all senses of the word. For example, the list of competitors and researchers encompasses 12 majors: Rounak Bastola (applied mathematics), Colin Francois (biology and philosophy), Taylor Gladney (pre-law and psychology), Jennifer Maupin (strategic communication), Xander Olson (philosophy and pre-law), Jacob Robbins (computer and electrical engineering), Katie Victor (French and political science), Leigh Welch (political science and sociology) and Emerson Williams (aerospace and mechanical engineering).
"The teams that are all philosophers, who you might think would do the best, often suffer from not having participants with varied areas of expertise," Gelfand said.
He credits participation in the Ethics Club with helping students enhance many skills that employers seek.
"They develop their ability to maintain poise and stay focused on a point," Gelfand said. "They really enhance their logical and linguistic analysis skills, as well as their research skills. They even enhance their writing skills because they write so much to help them prepare."
Any OSU undergraduate can join the Ethics Club, which supports OSU's ethics bowl teams. For more information, contact Trippett at daniel.trippett@okstate.edu.