Bonnie Cain-Wood will enjoy a productive afternoon March 6 during the OSU Communications Networking Event at the ConocoPhillips OSU Alumni Center. And her reasons for going—her role as a communications professional and her appreciation for the value of internships—goes back to what she described as "a life-changing afternoon washing dirt."
The Oklahoma City native is the OSU Library's manager of communication services. She is a 1999 environmental science and 2006 master's in mass communication alumna who planned to be a research scientist until that fateful day during her undergraduate experience. Thanks to a Wentz Research Scholarship, she was participating in a project on bioremediation of semi-arid soils.
"There is a phenomenon where plants will pull contaminants out of the soil, so we were going to see what results we saw with heavy metals in Oklahoma soil," Cain-Wood said. "So I got to drive around the state in pickup trucks with cowboys to get soil samples. Then we got back to the lab, and I spent the whole day in the lab all by myself…washing...dirt. And I had a realization that I can't work in a lab, in a quiet place, where people don't talk and you are there all by yourself. I have to be around people."
She decided she was more suited to a career in either public education or fundraising, and fortunately she had been working at the Edmon Low Library since her first semester at OSU. She was hired for a full-time position that worked with the organization's communicator, director of development and head of human resources. She took her last final on a Tuesday and began the job the following day.
Two years later, she was promoted to coordinator of communications, which has grown into her current role along with her increased experience and expertise.
"In 2001, it was a one-man show," Cain-Wood said. "We did two print newsletters a year and sent out a press release a week. That year we hosted nine events, one every month of the school year. We thought that was insanity, and we could never do that much again. And there was no social media."
She continued, "Today, I have a team of 10 people, including our interns. We hardly ever send out press releases, but that has been replaced by Facebook and Twitter and Instagram and YouTube. We have a multimedia production unit as part of my team. And we do around 75 events a year."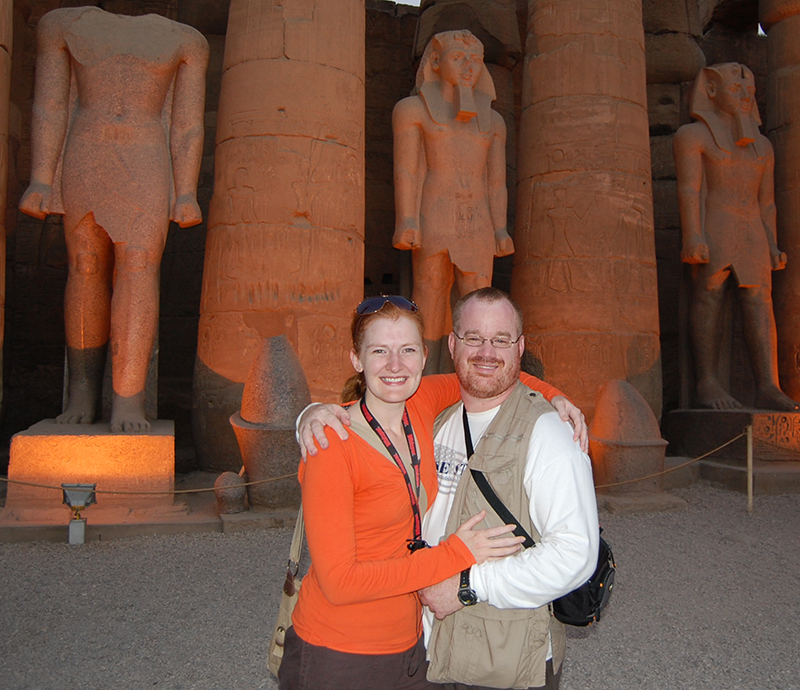 She is especially proud of the library's internship program. Because of her Wentz Research experience, she knew how much an undergraduate could contribute, and how much the student could learn through hands-on experience. The professionals benefit from extra assistance, and the interns hone their skills while determining if the careers they are considering are a good fit. So she asked Dean Sheila Johnson in 2005 for funding to hire an intern.
"I told her about the things I think a student could help us with, and that we might be able to get them academic credit for it," Cain-Wood said. "Sheila is all about finding ways to help students with their coursework and preparing for their careers. She approved it, and we had a one-semester trial over the summer. It went fantastic, so the next year they said I could hire someone for two semesters. It snowballed from there."
Today, any library employee can write a proposal for an internship in their area. As a result, the organization has 20-something interns from various majors. In just Cain-Wood's group, there are interns for video, events communication, e-communication, digital storytelling for the archives, digital storytelling for oral histories, graphic design and emerging technologies.
'If you want to hire the best, then you need to hire first'
Cain-Wood and her team will be at the ConocoPhillips OSU Alumni Center for the networking portion of the event from 1:30-3:30 p.m. because she is always looking to hire "the very, very best students." She has regularly hired both interns and full-time employees that she met at this event.
"It's hard to hire fall interns in the summer if you want the best," Cain-Wood said. "So we open our positions about March 1 and recruit for about a month so we can wrap up our interviews and make hiring decisions before dead week so students don't have to worry about that when they are getting ready for their finals. The Communications Networking Event has become a standard piece of our recruitment for the internship program."
The event will begin at noon with a keynote speech from Larry Reece, the "voice of the Cowboys." A Mexico Joe's buffet will be served from 12:45-1:30 p.m. A photographer will take free headshots of students from 1-3 p.m.
"This is a great opportunity for both students and professionals," said Bobbi Kay Lewis, College of Arts and Sciences' assistant dean for outreach and communications. Lewis plans and coordinates the event a part of an experiential-learning project in her event-planning and communications class. "The event is a big win-win all around. Students connect with professionals and learn the importance of networking. Professionals and alumni get a chance to contribute to student learning and growth, while meeting OSU's best and brightest to fill their internships and entry-level positions."
For more information or to register for free, visit www.osunetworking.com.
'Bad things happen when I get bored'
Cain-Wood learned as an undergraduate that she is most productive when she keeps herself busy. She regularly took 18 hours of classes per semester while working 30 hours per week. She earned her master's degree in three years while working full-time. Then she earned an Accreditation in Public Relations from the Public Relations Society of America.
Today she is an adjunct trainer for the Meridian Technology Center and a board member for CASA for Kids in Payne and Logan County. She is also involved with the Town and Gown Theatre.
She met her husband, John, at OSU. He is a Stillwater native and three-time OSU alumnus: 1994 bachelor's in journalism, 1998 master's in political science, and 2007 Ph.D. in environmental science. He is a professor of public administration at the University of Central Oklahoma.
One of their favorite experiences is traveling abroad. The growing list of countries they have visited includes Costa Rica, Ecuador, Egypt, Greece, Guatemala, India, Iceland and Ireland.