Frank Wicks came to Oklahoma State University in 1971 to work toward his lifelong dream of becoming a doctor. Instead, the Ponca City native discovered a passion for chemistry, which led to more than 30 years with a global leader in research chemicals. Over his career, he fulfilled six positions with "president" in the title for Sigma-Aldrich Corporation.
Wicks (1975 microbiology, '78 biochemistry Ph.D.) and Linda Young ('81 statistics Ph.D.) were both inducted into the College of Arts and Sciences Hall of Fame during the 2018 ceremony on Sept. 21 in the Wes Watkins Center for International Trade & Development.
"I'm just overwhelmed and honored to be chosen for this award," Wicks said. "My education at OSU gave me abilities to have a career that exceeded all my dreams and expectations. I was able to work for a company that had been in business for 80 years. There's probably not a major scientific discovery in the last 80 years that hasn't used at least one Sigma-Aldrich chemical."
Sigma-Aldrich Corporation was a publicly traded life-science company with 10,000 employees in more than 40 countries. It produced over 200,000 chemicals used by universities, pharmaceutical and industrial companies. The organization sold to Merck Kga in 2015 for $17 billion.
In 1982, the St. Louis-based company hired Wicks as a research and development chemist. He was handed a bucket of cow's brains his first day and told to make something out of it.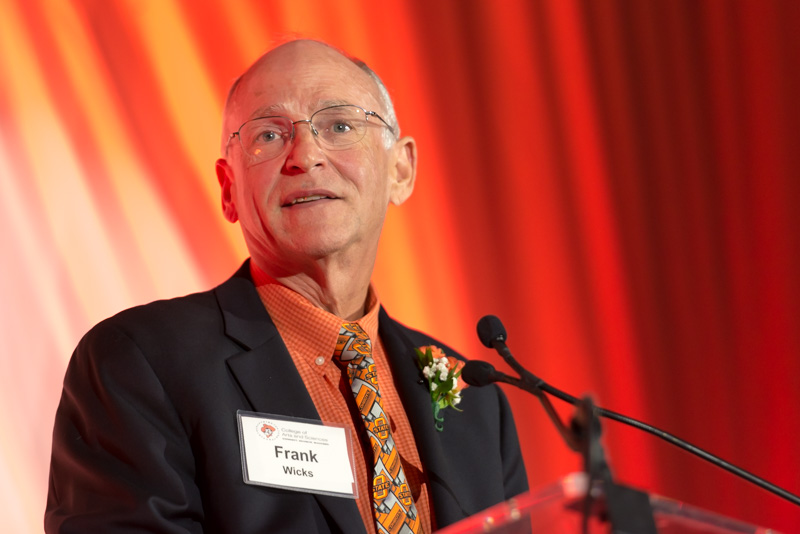 "That's kind of a challenge," Wicks said. "I was able to isolate a chemical that modulates calcium in their bodies. The first year it sold for $100,000, and it only took two weeks to make."
Wicks spent the next couple years developing 40 similar products, and over the decade was given opportunities to learn and do more related to marketing, sales and leadership of the company.
He rose to become president of the Sigma Chemical Division in 1994. He was later promoted to the positions of vice president of worldwide operations; president of scientific research; president of fine chemicals; president of research; and executive vice president, and president of applied markets.
"One of the things I enjoyed most about my career was that my Ph.D. put me in position to lead our R & D efforts internally, and see all the new tools and various chemicals that we could provide, but it also enabled me to converse with scientists all over the world," Wicks said. "I traveled to about 28 different countries and spoke with scientists in pharmaceuticals, food and beverage, diagnostics, forensics, material science, computer chip manufacturing, bio pharmaceuticals and too many others to mention.
"I was able to do that based solely on having the platform that OSU provided for me. I had a great career. I actually had a blast, and I believe it helped me to continue to move scientific discovery and advancement across a variety of disciplines. OSU played a major role in giving me that opportunity."
He named three professors who had a big impact on his life. Elizabeth Gaudy in microbiology convinced him to pursue research rather than medicine. Robert Gholson from biochemistry hired him as a research assistant and taught in a way that "just kind of hooked" Wicks, "and the rest was history." And Lionel Raff from chemistry showed him how to see chemistry through the eyes of mathematics, which Wicks enjoyed.
He also became involved in leadership of a campus religious group, the Navigators. He later worked for the Navigators at both the United States Air Force Academy and the University of Colorado before joining Sigma-Aldrich.
Wicks became particularly known as Sigma-Aldrich's culture leader, with a focus on the value of the individual and a core value of respect and dignity, led multiple acquisitions and integrations over his career, launched major marketing and rebranding campaigns, hired and developed seven of the 15 key leadership team members, and developed and implemented database marketing and pricing systems.
In addition to his career at Sigma-Aldrich, Wicks served as a member of the Advisory Board of Chemical & Engineering News, was an Advisory Board member of the International School of Business at St. Louis University, and is Vice-Chairman of the Board of Trustees of Covenant Theological Seminary of the Presbyterian Church in America and serves on the Board of Directors of CASS Information Systems.
Wicks lives in Chesterfield, Missouri, with his wife of 45 years, Elvesta, who is also a native Oklahoman. They have three daughters and 11 grandchildren.