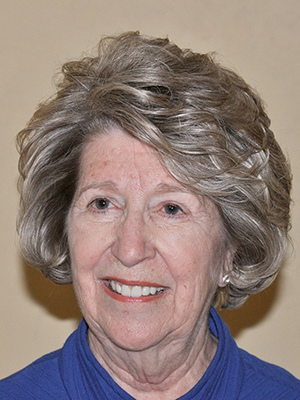 An OSU alumna and granddaughter of a former university President has been honored with one of Pi Beta Phi's highest awards.
Lela Bennett Sullivan (B.S. Political Science '67) has received Pi Beta Phi® Fraternity for Women's prestigious Carolyn Helman Lichtenberg Crest Award in honor of her community service. Lela has provided a lifetime of service to the Oklahoma City community, including chairing the YWCA Oklahoma City's $15 million campaign to provide a new shelter for victims of domestic violence and sexual assault.
The Carolyn Helman Lichtenberg Crest Award is presented annually to distinguished alumnae of Pi Beta Phi who exhibit excellence and outstanding leadership in their career or volunteer service to their communities. The award is named for past Pi Beta Phi President Carolyn Helman Lichtenberg, who was instrumental in forming Pi Beta Phi Foundation during her term from 1985 to 1991. Essential Fraternity initiatives, like leadership development programs and literacy, are supported through the stewardship of the Foundation.
Sullivan is the granddaughter of Dr. Henry Bennett, President of what was then Oklahoma A&M College from 1928 to 1950, whose statue resides on the east side of Whitehurst Hall, and for whom Bennett Hall dormitory is named. Sullivan first served the YWCA in 1988 as Grants and Foundation Committee Chair. At that time, she helped raise $1.6 million, which was used to build the first licensed emergency shelter in Oklahoma for victims of domestic violence.
The need persisted, however. In 2012, a $15 million campaign was launched to construct a larger emergency shelter, refurbish the existing shelter as an extended-stay facility for women and children and establish an endowment to secure success of the programs.
Sullivan's leadership as Co-chair was fundamental in the completion of the campaign in less than two years. She helped recruit, organize and inspire more than 200 volunteers, small businesses and corporations to help. She met with American Indian tribal chiefs, CEOs and community leaders to explain the crisis of domestic violence and gain their support.
The new shelter became fully operational in 2015 and the extended-stay facility is currently in process. Lela proudly leads tours of the new 24/7 facility; provides immediate, emergency shelter to more than 350 women and children per year. The facility also provides supplemental services like helping obtain legal services, transportation, housing information, medical care, child care and advocacy services.
Sullivan has also held leadership roles with the Junior League of Oklahoma City, the Governor's Commission on the Status of Women and the Oklahoma AIDS Care Fund. She has received numerous awards for her service including the Wall of Fame Humanitarian Award from the Oklahoma City Public Schools Foundation.
"I'm in awe of all the incredible Pi Phis who impact their communities in such a positive way and grateful to be honored by those women I most admire," Lela said. "Helping secure the bricks and mortar to build a place empowering others to live a life without fear gives me a feeling of deep gratitude."
About Pi Beta Phi Fraternity for Women: Founded in 1867 at Monmouth College in Illinois, Pi Beta Phi has installed 204 collegiate chapters and nearly 300 alumnae clubs worldwide. Pi Beta Phi promotes friendship, develops women of intellect and integrity, cultivates leadership potential and enriches the lives of members and their communities. The Fraternity believes in the power of reading and through its philanthropy, Read > Lead > Achieve, promotes a lifelong love of reading that can unlock true potential. For more information, visit www.pibetaphi.org or follow Pi Phi on Twitter and Facebook.