Dr. Glen S. Krutz's appointment as dean of the Oklahoma State University College of Arts and Sciences became official Friday. The OSU/A&M Board of Regents voted to name him dean, professor and Puterbaugh Foundation Chair.
"I am excited to join OSU's largest college and the intellectual heart of this great American land-grant university," Krutz said. "President (Burns) Hargis and Provost (Gary) Sandefur are big advocates for the liberal arts and sciences. In Oklahoma, now more than ever, it is important that students gain depth in these elemental fields of study, so as to make deep contributions to their community after graduating from OSU."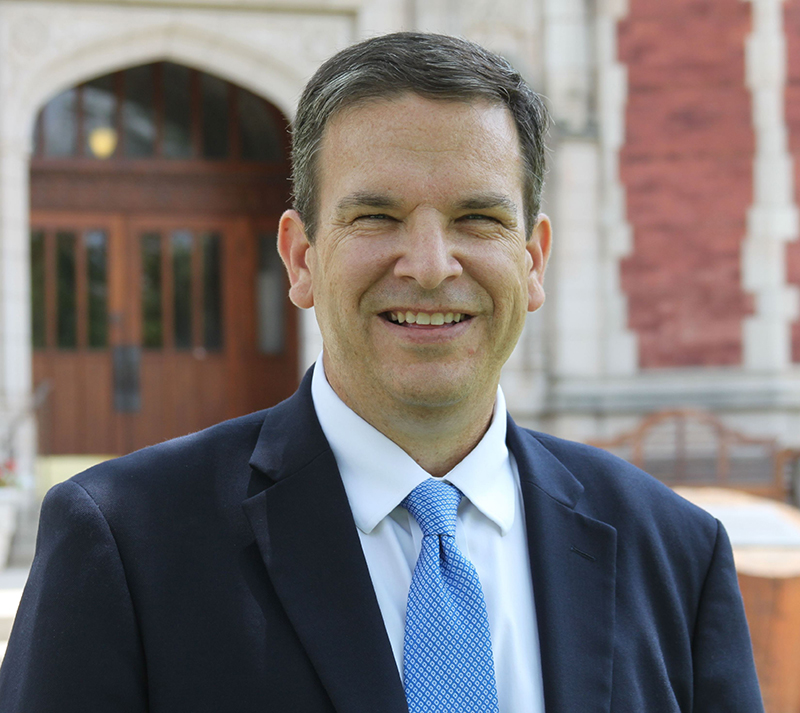 Krutz was chosen after an intensive national search that began last fall. He will come to OSU on or around July 1. He is currently at the University of Oklahoma, where he is senior vice provost in the Office of Academic Affairs as well as a tenured professor of political science. His research fields are political institutions, public policy and administration, and research methods.
Krutz earned a bachelor's degree in political science and speech communication as well as a master's in public administration from the University of Nevada, Reno. His doctorate in political science is from Texas A&M. He joined OU's faculty in 2002.
The Puterbaugh Chair was established by the Puterbaugh Foundation, based in McAlester, Oklahoma. As the chairholder, Krutz will direct funds "to important educational purposes that improve the public good."
"Philanthropy was the real legacy of Jay Puterbaugh, a favorite son from southeastern Oklahoma," Krutz said. "The Puterbaugh Foundation continues to help the state of Oklahoma through a variety of programs in education, including the Puterbaugh chairs program at OSU."
Below is the list of other CAS personnel actions the Regents approved during the regular meeting in Goodwell, Oklahoma.
New appointments
James Ewald, assistant professor, Art, Graphic Design and Art History
Jessica Teckemeyer, assistant professor, Art, Graphic Design and Art History
Tracy Kerr, teaching assistant professor, Chemistry
Martin McCullagh, assistant professor, Chemistry
Spencer Pitre, assistant professor, Chemistry
Elijah Schnitzler, assistant professor, Chemistry
Sathynarayanan Aakur, assistant professor, Computer Science
Arunkumar Bagavathi, assistant professor, Computer Science
Shital Joshi, teaching assistant professor, Computer Science
Thanh (Tim) Thieu, assistant professor, Computer Science
Michael Amory, assistant professor, English
Alyssa Hunziker, assistant professor, English
Lindsay Wilhelm, assistant professor, English
Yuting Zhou, assistant professor, Geography
Matthew Pereira, teaching assistant professor, History
Anna Zeide, assistant professor, History
Jesse Balaban-Feld, teaching assistant professor, Integrative Biology
Elizabeth McCullagh, assistant professor, Integrative Biology
Taylor Woodall-Greene, assistant professor, Languages and Literatures
Sean Curry, assistant professor, Mathematics
Xu Zhang, assistant professor, Mathematics
Jin Kim, teaching assistant professor, Philosophy
Mayukh Lahiri, assistant professor, Physics
Andrew Yost, assistant professor, Physics
Corinne Schwarz, assistant professor, Sociology
Rose Phong, assistant professor, Theatre
Changes
Igor Pritsker, appointment to the Vaughn Foundation Professor in Number Theory, Mathematics
Yingmei Liu, appointment to the Noble Foundation Chair for Laser Research, Physics
Retirements
Cheryl Giddens, Communication Sciences and Disorders, June 9, 2019
Martin Wallen, English, May 31, 2019
Rebecca Bensen Cain, Philosophy, May 31, 2019
Kenneth Kiser, Sociology, July 1, 2019