Overview
Oklahoma State University now offers online concurrent courses to high school students through Cowboy Concurrent Online. Get a jump start on your college education and earn general education credits at a reduced cost.
Where you live is no longer a limitation! Concurrent enrollment has often been limited to students who live nearby and have time to drive to a community college or university. Cowboy Concurrent courses are offered online to give students all over the state and beyond access to concurrent enrollment.
Reduced Rates
Oklahoma seniors eligible for concurrent enrollment will not incur out of pocket costs. Eligible seniors receive a tuition waiver from the state and a scholarship from the OSU Foundation to cover fees.
Oklahoma juniors receive a reduced rate of $775 per course to take a Cowboy Concurrent Online course. Out-of-state high school students will pay $300 per credit hour, or $900 for a 3-credit hour course.
There will be a limit of 500 total students admitted to the Cowboy Concurrent Online coursework. The reduced rates apply to the Cowboy Concurrent Online classes only.
Next Steps
To enroll in Cowboy Concurrent Online, students must apply to OSU. To learn more about the application process, visit concurrent application steps.
For additional information about Cowboy Concurrent Online, please visit our FAQ page.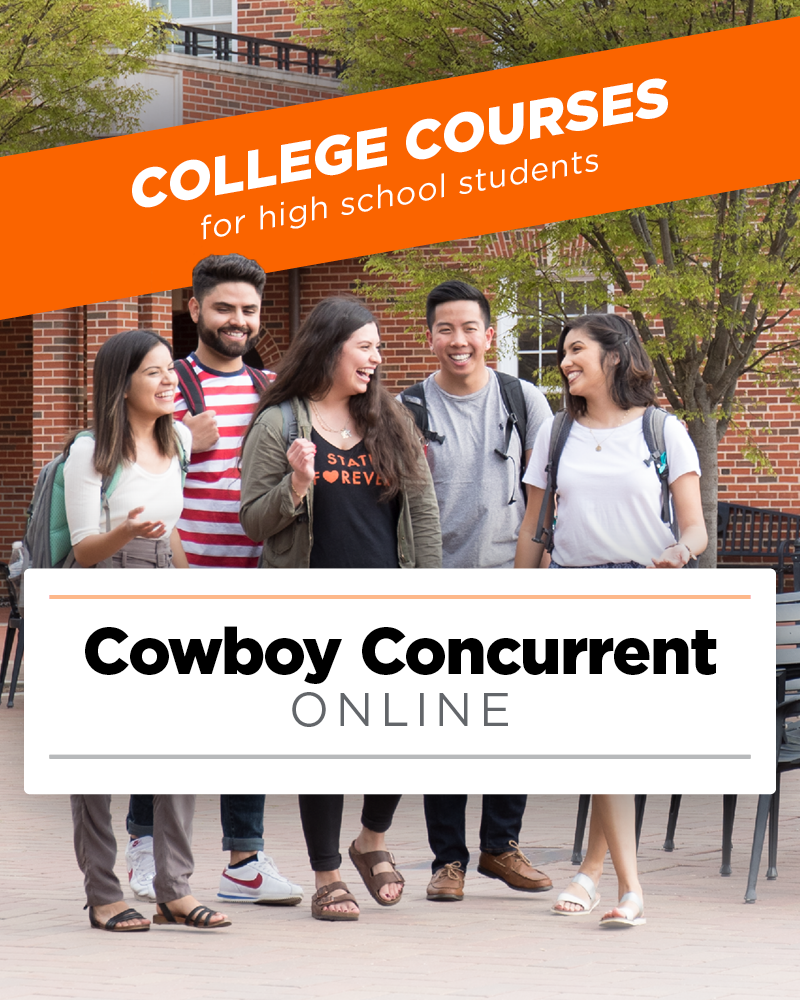 Courses Available
ENGL 1113 - Composition I


HIST 1493 - American History Since 1865 (DH)


MATH 1513 - College Algebra (A)


MC 1143 - Media in a Diverse Society (DS)


POLS 1113 - American Government


PSYC 1113 - Introductory Psychology (S)

Contact
Brett Rowh
040 Student Union
Oklahoma State University
Stillwater, Oklahoma 74078